Training Results
We are regularly providing female employees with the following training throughout the group's companies: skill training for deeper involvement in business management for female core employees (such as logical thinking, presentation skills, leadership theory), and general career development training for female employees. Additionally, we are providing manager training on how to develop female subordinates. In this way, we have been involved in awareness-raising activities on both sides. As a result of these efforts, today as many as 30% of our female core employees are working in key positions.
Diversity Management Training for Managerial Employees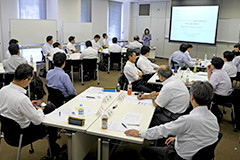 This is a training program for managerial employees including managers, general managers, and directors concurrently serving as department heads, in which they understand diversity better and learn points on how to develop female employees.
This is a day-long training program conducted every year inviting specialized outside instructors. The morning session is conducted mainly in a classroom to introduce advanced companies to diversity in Japan and abroad and share activities of female employees.
The afternoon session is designed to have a series of workshop-style discussions in several groups, where the trainees prepare "development plans for female leaders" and "scenarios for active female employees." Through intense debates on how to develop female employees who will play a major role in our future business, the trainees will identify challenges and work out possible solutions.
We heard the trainees say, "We should give female subordinates many more opportunities to make them feel needed," or "We should relook at the division of roles to broaden the areas where female employees can work more actively." As they stated, this training program is making considerable progress in raising awareness among management.
As a team, Morita Group is committed to the development of managerial employees "who can evaluate the ability of employees regardless of gender, while understanding women-specific changes in life stages," "who can develop female employees depending on their individual skills," and "who can create a workplace environment in which female employees find it easy to work."
Training Program
Time
Description
Instructor
10:00~10:30

■ Promotion of diversity and expectations for actively working female employees

General manager, Department of Diversity & Inclusion
10:30~12:00

■ Report on training implementation for female leaders

■ Latest status of diversity management
・What makes diversity-advancing companies different
・Strategies for coexistence and others

Ms. Mikie Yumoto
Representative
Rischiare Consulting
13:00~14:50

■ Group discussion
・Preparation of female leader development plans

15:00~16:40

■ Preparation of scenarios for actively working female employees

16:40~17:10

■ 9 proposals that help develop mental toughness

17:10~18:00

Q&A session, preparation of report on this training program
Career Development Training for Female Core Employees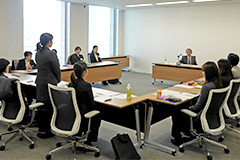 This is a training program for female core employees in their thirties to forties with the aim of developing "human assets" from which future leaders will be selected.
This training is conducted mainly in workshops in four sessions over a total of eight days. With leading specialists from related fields invited as instructors, the trainees in this program learn various business skills including "logical thinking," which helps them learn how to think logically, "presentation," which helps them improve the ability to develop strategic proposals, and "leadership," which helps them learn how to lead the Group to be successful in business. Furthermore, the trainees also learn mind control skills to gain business capabilities, which are essential to leaders, such as the "psychology of mentality and motivation."
"We learned the importance of challenging," and "We acquired how to identify challenges and how to solve those issues," said many trainees who could now do their work from a higher perspective, which helped motivate them a lot. This training program has turned out quite a few section chiefs and assistant managers, who are now playing leadership roles, proving the program to be a practical one that backs up female employees' career paths.
With the ways of working and our business becoming increasingly diversified, we are convinced that the development of female leaders who can think logically, develop strategic plans, and have the ability to negotiate earnestly enough to attract people is one of our most important business strategies for a bright future.
Training Programs (Themes No. 1 - No. 4)
Description
Instructor
Theme No.1:
Expectations for female core employees. Learning the concept of career planning as female core employees
Day 1

■ Opening speech by Director (10:30–12:00)
"Morita Group's management strategy and expectations for female core employees"

■ Keynote speech: "Sustainable ways of living and working" (13:00–17:00)
Improve your skills to involve other people = Improve your strategy-planning and communication abilities

[AM]
Masahiro Nakajima
Chairman & CEO, Morita Holdings
Corporation

[PM]
Ms. Mikie Yumoto
Representative, Rischiare Consulting

Day 2

■ Checking your strengths (9:00–12:00)

■ Your own growth, motivating your junior fellows and subordinates(13:00–17:00)
Preparation of commitments

Ms. Mikie Yumoto
Representative, Rischiare Consulting
Theme No.2: Psychology you ought to know as female core employees
Day 1

■ Male and female psychology (10:30–17:00)

Mr. Akira Ito
Representative Director & President,Tokyo Shinri Consulting Co., Ltd.
Day 2

■ Psychology of mentality and motivation (9:00–17:00)

Theme No.3: Logical thinking and presentation skill
Day 1

■ Understanding and learning logical thinking skill (10:30–17:00)

Mr. Toshiya Machii
Representative Director,
Seal Management Partners, Inc.
Day 2

■ Group discussion (9:00–17:00)

Theme No.4: "The tumultuous times" – Leaders' intellectual and interpersonal powers
Day 1

■ Desired "intellectual power" and "interpersonal power" (10:30–17:00)
Requirements CEO expects from global leaders

Mr. Atsushi Funakawa
Representative Partner,
Global Impact Inc.
Day 2

■ Rules for logical thinking (9:00–17:00)
Career Development Training for Female Employees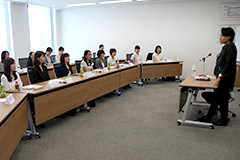 This is a training program for female employees who support our business in order to pursue even higher work efficiency and help their career development.
This training has been conducted every other year since FY2012, and more than 50 female employees have participated each year. With the help of experienced instructors,
the trainees learn business skills in a classroom, such as "conversational ability that helps your business" and "provide/receive instructions, easily understandable instructions." This training is designed to raise the level of their business communication skills.
The trainees said, "We understood the importance of telling our views with a "sense of purpose" and by listening to the other party," and "We learned that changing how to express our views would help smoothen communication and human relationships." This training is designed to get the trainees to recognize and learn something new. The training will also help them master live skills, which will soon come in handy in the workplace.
In this way, Morita is also involved in training to support the career development of each female employee and also develop "human assets," which will play an important role as core employees in the future.
Training Program
Time
Description
Instructor
10:30~12:00

■ Problems with communication in your workplace

Ms. Hiroko Takenouchi
Chief Instructor, Communication School "Tomoko Juku"
13:00~17:00

■ Conversational ability that helps your business

■ Provide/receive instructions

■ Easily understandable instructions
Page Top